Reimagining the Future of Food: Unlocking the next-gen of technologies and alternatives
'We accompany entrepreneurs, intrapreneurs and investors on this journey, co-creating the new future of food'
The food industry and its supply chain need to be transformed
▷ Earth's population is projected to reach 9.8B by 2050
▷ Food & water security are under growing threats from climate change and conflict
▷ Within this context we need to increase food production by +70%

A change in our consumption model is happening now
▷ Population growth and rapid urbanization are leading the shift in consumer behavior
▷ Corporate ESG compliance and funds for impact investing are at an all-time high
▷ Sustainable food alternatives, including plant, insect, and algae based options are a key part of the food revolution
▷ The opportunity is to create tasty, healthy, and widely available food that consumers will enjoy

'We are here to boost entrepreneurs reinventing the future of food'
As conscious epicureans we are participating in the transformation of our food system and our consumption model .
Engaging ourselves in scalable, sustainable, and technological innovation in agriculture and food, co-creating $100mil ideas, focused on tasty and healthy products nourishing a better future for the next generation.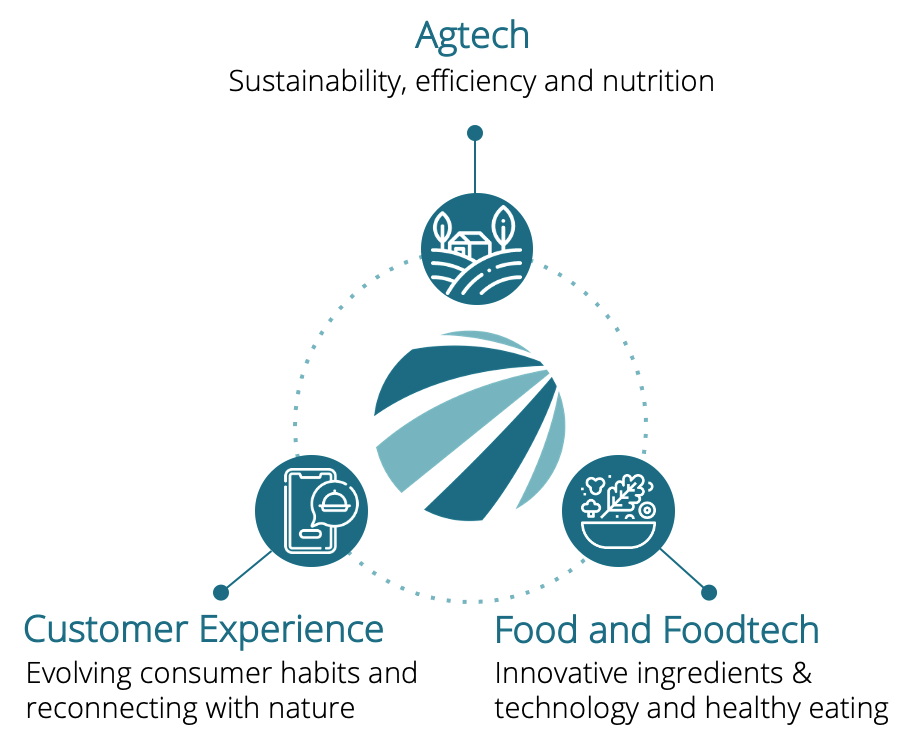 Accompany Entrepreneurs and Investors, in the transition to a sustainable food system
As Entrepreneur-In-Residence we create value by sharing responsibility & expertise

▷ Boosting entrepreneurs with resources beyond funding through Entrepreneur-In-Residence
▷ Collaborating with founders to co-create opportunities using our entrepreneurial experience building world-class companies
▷ Prioritizing taste, health, and technology innovation to drive impact in the future of food
▷ Meeting significant impact and investment objectives for our stakeholders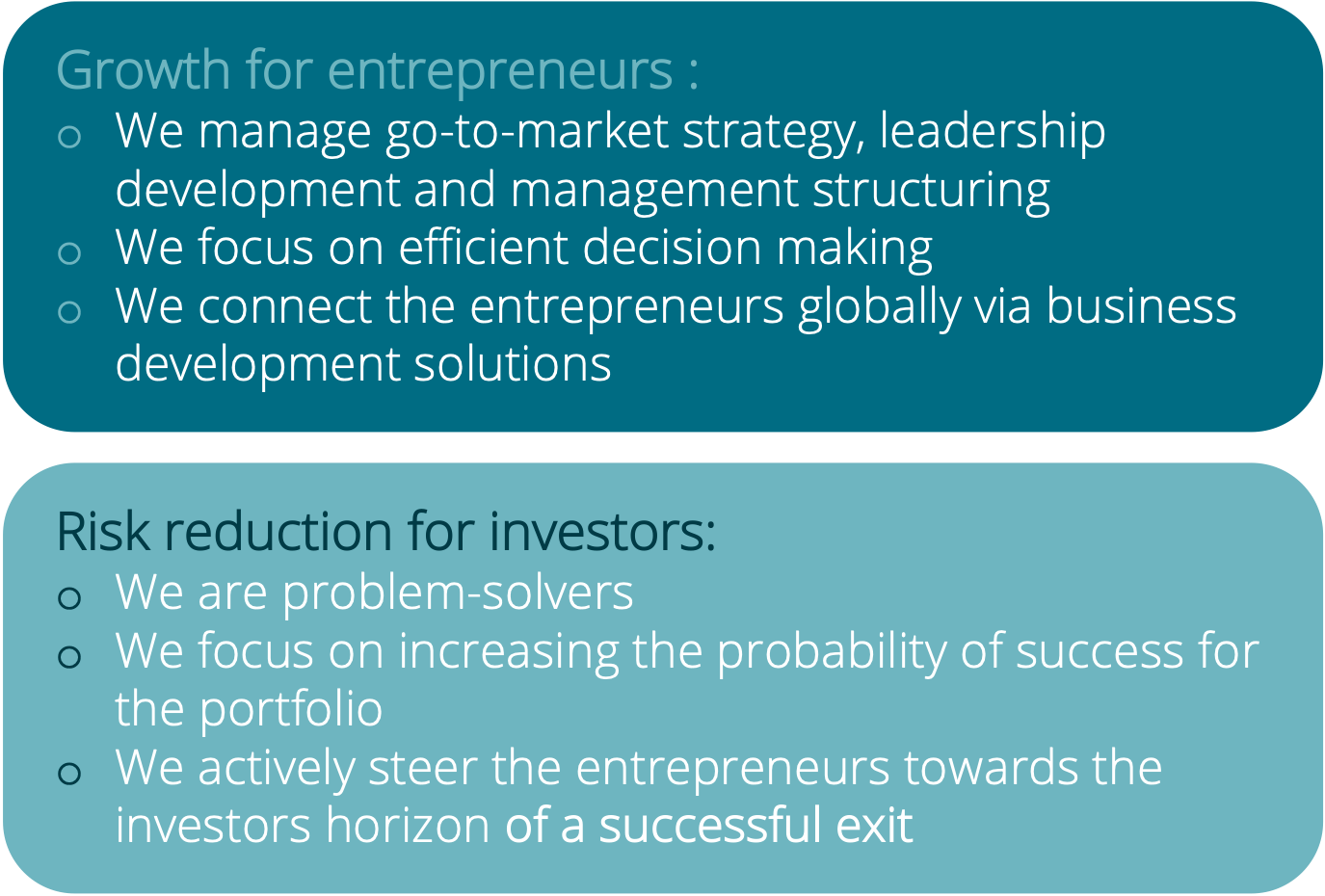 Our Innovation priorities
Contributing to making a step change in the food system, developing an impact growth mindset in the consumer mind
Climate change resilience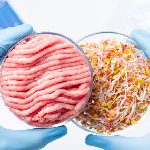 Tasty, healthy, and sustainable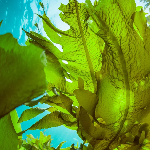 Novel source of nutrients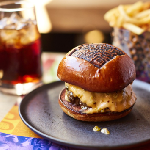 Innovative and impact driven
Experienced leaders: from ideation to investment
Developing world class companies, empowering the teams on their journey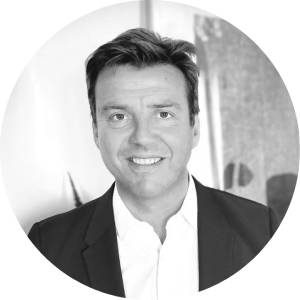 o Intuitive leader with multinational experience in EU, Asia and North America
o Emerging markets investor & passionate deal-maker
o Realized the turnaround and successful M&A exit in South-East Asia for a Food & Beverage Singaporean family office
o Leadership experience in FMCG, hospitality and F&B with L'Oréal, Disney, EM Food Services and Newrest Group
o Active YPO, French Founders & MassChallenge Accelerator member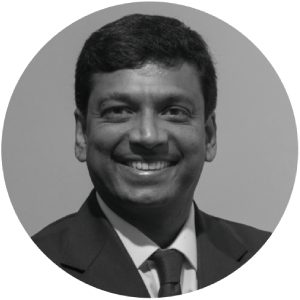 o Global Executive with a track record of creating and building successful technology enabled businesses across Asia, Europe and North America
o As CEO of LatentView, transforming them from a founder-led startup to a world class analytics organization, laying the foundation for one of the most successful IPOs (Nov 2021 – BSE)
o Key interest in Healthcare and deep tech as active investor in the sector in India (Cardiac Wellness Institute) and Europe (Ancora Health)
o Gopi has a proven track record of taking companies to positions of strength in diverse markets working with Philips and Johnson & Johnson
o Attentive leader with experience in EU, North-America, Africa and Asia
o Extensive knowledge in M&A, project management and legal & financial services
o Holistic approach of active listening, transparency and consensus building
o A fact driven decision maker with a passion for food and people
o Experience developed with Cobber Finance, EM Food Services, Afgri, Syngenta and Newrest Group
To our stakeholders we commit the forces needed and to co-orchestrate the resources.

o Financially and operationally devoted
o Close to you
o Extensive expertise, leadership skills and network at your disposal
o To do our part so that you can inherit a home planet that is as enjoyable as we had
o Transfer of our knowledge to smart entrepreneurs eager to develop themselves
o Seek out and select profitable international investments
o Dedicated to a sustainable, ethical and scalable future for both Asia and Europe
o Developing teams & projects internationally
o Delivering results-oriented promises to our stakeholders
o A journey full of shared moments
Together or individually, we have realized various business turnarounds, IPO, investments and successful M&A exits in the Tech, Agriculture and Food sectors.

Sharing an entrepreneurial mindset, Eloi and Noah, in Southeast Asia, managed and grew companies in a portfolio that operated and serviced:
▷ 30+ F&B branded (Starbucks & Burger King) outlets and 300+ B2B clients
▷ 40+ on site contract food services and 2 internationally certified central production units
▷ Serving in excess of 50 000 meals a day with more than 1 500 employees
Driving for excellence, for 10 years Gopi lead a founder-based tech from start-up to a $1B listed company, being the most oversubscribed IPO in India.
All three have been BA investors in agtech, food and foodtech as well as healthcare and deeptech, on 3 continents: Europe, America and Asia including India.
EMCAT – Food Airport Retail Concessions
Food & beverage concessions operator with some 30 stores in 3 airports in Cambodia and Myanmar.
Motivated by a passion for food, a commitment to excellence and a memorable guest experience, they have a powerful mix of well known international brands and locally created concepts. Some of the brands operated are Starbucks, Burger King, The Coffee Club, Yoshinoya, The Pizza Company, Bonchon, Krispy Kreme and Dairy Queen.
Mekong Food Services – Food Production
Cambodia's leading producer of quality bakery, ice cream, food products and services for retail and foodservice markets.
Producing the industry's broadest range of products since 2001, they are dedicated to developing and supplying food solutions that drive customer growth and success.
With 2 production locations in Cambodia and a nationwide cold supply chain, they are focused on HACCP certified production at an industrial scale.
Hagar Catering & Facilities Management – Contract Food Services
An industry leader in providing high quality food production and service to a wide range of clients including factories, companies, hotels, schools, universities, catering events and remote projects. Founded in 1998 by Hagar International, a non-governmental organization with a primary focus on assisting underprivileged women and children.
Their canteen services produce over 25,000 meals daily for the employees and students of over 30 different companies across many sectors, including garment, brewery and automotive factories.
If you are an entrepreneur, investor, founder or expert please feel free to contact us.